Monday, November 03, 2008
Penderwicks Rampage Again
Why didn't Candlewick publish
The Penderwicks on Gardam Street
by Jeanne Birdsall (Alfred A. Knopf, 2008)? Perhaps they couldn't afford to carry another and then the three more that are planned. The second Penderwick is just as delightfully, bewilderingly old-fashioned as the first, and even a bit more deliberately so, with references to Lewis, Nesbitt, and Eager ("O Turtle!") The main story is bracketed by an end and a beginning, with plenty of love, hijinks and excellent writing in between. Readers of the current and next couple of generations who discover and love these books will be just as dear to one another as readers of the Melendys have been to me.
I'm doing a lot of reading for work again, and so there is much criss-crossing between reading stacks for me. Definitely on the pleasure side was my third read of
Kristin Lavransdatter
by Sigrid Undset—the greatest work of historical fiction of the twentieth century. This time I read the new (1990s) translation by Tiina Nunnally—what an improvement. And it is so interesting to read it at this stage of life, with my children beginning to grow up and and away a bit. I find the way Kristin's life is told is so true, in incidents and breakthroughs of understanding. Just as in life, where ordinary days hurry by until something happens that alters your course or colours everything backwards with a different shade, again. I would love to see this work revived as an HBO or British television mini-series. It has everything—passion, politics, swordfights, plague, disaster, wealth, mountains, ships, dread superstition, near death by childbirth and heights of soul fervour...
Now I'm going to hasten through a whack of reading I have done in the last few weeks:
Ursula K Le Guin:
Powers
(Harcourt 2007): The third book, which follows
Gifts
and
Voices
; very good, though I preferred the other two. This seemed more of a portmanteau than the others, with more packed in and feeling more deliberately carried to a certain destination. The best part of it is the relationship the main character, Gavir, has with three significant women in his life: his sister Sallo, his friend Diero, and his aunt, Gegemer, who rescues hims from that Old General always waiting in the wings to make the Young Soldier suffer for his own glory—in this case, Dorod, the seer's interpreter. These three relationships channel into his care of Melle, whom fate hands him when he is ready to take the gift and responsibility of uninnocent love.


Also by this author:
Lavinia
(Harcourt 2008): A homage to the Aeneid by Vergil.
Powers
, I see, was a lead-in to this look at that classic male thing, a hero, this time from the perspective of The Hero's Wife (or maybe "Prize" is a better title for the thing Lavinia is). The author plays with voice and time a bit, using the device of the poet himself conversing with his hal-formed creation in a dream or vision; but it's not enough to overcome them, causing more confusion than anything else. And it wasn't necessary. Most remarkable is the calm and sideways way in which Aeneas's eldest son is defined as gay—or rather, that his "sexual attraction is not to women." Wow!
Martyn Pig
by Kevin Brooks (The Chicken House, 2002; Scholastic PUSH ed.) The first novel of the author of
Being
; I can see the hard and even cold edge of the latter title is a characteristic of his writing. He describes the feelings his character is having—or, sometimes, the character describes them to himsself—but the character doesn't quite
have
the feelings, just experiences the effects of them—the confusion, the sweats, the rising up in violence. This story is about a boy who accidentally kills his drunken father, then covers it up with the help of a girl who ultimately betrays him utterly; but he's hoist on his own petard there, because, justifying the cover-up, he has said, "It's only wrong because people say it is; if it's right for you it's okay."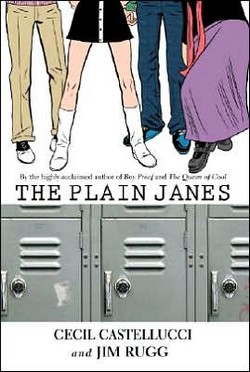 Heroes
by Robert Cormier (Delacorte 1998): Again, spare and simple on the surface, below complex and unresolved. Very good.
Naked
by David Sedaris (Little, Brown and Co, 1997): I didn't realize starting out that this book was so old. Which means he came out flying.
The Miracle at Speedy Motors
by Alexander McCall Smith (Alred A Knopf, 2008) My somewhat guilty pleasure. Can't read these too close together or they will cloy, but it's fun to read them from time to time.
The Plain Janes
by Cecil Castellucci and Jim Rugg (DC Comics, 2007): Love the style, story and characters great. Daughter liked it too and wanted to check out the chix graphic novel line advertised in the back ("Minx": love the name!); but Friend tells me it has folded already. Darn!
Here Lies Arthur
by Philip Reeve (Scholastic Press , 2007): After
The Sword in the Stone
, this is the treatment of Arthurian legend I have enjoyed most. It's historical, not mythical, and posit Merlin as a spin doctor of the highest order.