Thursday, January 31, 2008
The Temptation was just too great
...and part of it is the fault of Vile Temptress, who was earlier introduced and knows who she is. But, to be fair, I also had to go to the book store for something somewhat work related, and I had a gift card, so I'd already spent the money, really; and then, I read so fast, so it hardly took any time at all...
Such is my growing respect for Neil Gaiman that I bought, cold and in hardcover,
M Is for Magic
(HarperCollins, 2007), a collection of short stories of his that he thought young people would enjoy. I do not regret buying it in the least. "Sunbird" alone was worth it! And "How to Talk to Girls at Parties" was a gem. I think Neil is some kind of spiritual son of DWJ; certainly
Interworld,
by NG and Michael Reaves (Eos/HarperCollins, 2007) would make one think so.
Interworld
also was fantastic and Son thought so too. It's very "boy"--lots of action, lots of potential for further action of a non-character-developing but very exciting and creative sort. Now that the story is so well laid-out, perhaps the TV and film people the authors have tried to pitch this story to will finally get it. Great—then the publisher will be rewarded for their investment!
There's going to be a lot more fantasy talked about here—I have to read it widely, for my next work task. So be prepared!
On that topic (and continuing with NG; and, come to think of it, HarperCollins).... a graphic novel treatment of Gaiman's
Coraline
! Coming soon (June 2008) to a bookstore near you! Very nicely done. The story gained, and lost, in this format: because you could see such things as the other mother snacking on beetles, there was more of a straight-out horror feel; the chill in the original came from the ordinary, almost flat voice of the narrative. The artist did a lot towards keeping this flavour by subtlety of expression in Coraline's face.
I was grateful to be able to give this to Daughter, who claims never to have finished a novel in her life, poor thing; she loves graphic novels, though—in fact, she is upstairs right now inhaling the third Babysitter's Club by Ann M Martin/Raina Telgemeier (Graphix/Scholastic Inc, 2007)—I love Raina's style. I have been quite inspired by my daughter in this area and find myself checking out the graphics section at the library--not manga, that's a taste I don't share, though I've tried. So I found White Rapids by Pascal Blanchet (Drawn&Quarterly, 2007)—what a styley book. Delightful! And before that, another recent Drawn&Quarterly pub, a peculiar little story called
Wimbledon Green
(I think) about "the world's greatest comic book collector" ; the artist was the one who illustrated the covers and endpapers of the last Stuart MacLean book I read (and blogged, somewhere here).
So, I have apparently been reading up a storm (even I don't know where I find the time) because I also must talk about DWJ's newest,
The Game
, published in Great Britain by HarperCollins (2008; thank you, Vile Temptress!). Now, this is a lovely story—if it weren't for the bloody, drunken Maenads (and their boozy leader Bacchus) I could add this to my "possibility for the job" pile. The extra stuff at the back is fun and very helpful for today's reader; whatever they don't know they certainly might get interested in, reading this story. It features a classic, ignorant and unknowingly gifted protagonist who is thrown into a chaotic situation with no explanation and has a glorious adventure in which she (in this case) discovers her true nature. The magic comes from the "mythosphere"; in particular, the "Golden Apple strand"—and that's all I'll say, for the sake of the many sisters who read this and will be borrowing said book from me...and eventually, if they can, buying it for their own DWJ collections. But the best part of reading this was discovering that a sequel to H
owl's Moving Castle
is "coming soon"!
It pays to browse the shelves, always. In the library I found a novel by Geraldine McCaughrean I had no idea existed—and oh, it is LOVELY. Well, I love this author, which is why I leap at her name on a spine; but the book really is LOVELY!!! It is a shining example of a good writer's genius: to listen, and read, and pay attention, and imagine—and then bring readers to a place where she herself has never even been. The book is
The White Darkness
(HarperTempest, 2005—good gracious, this IS an HC day, isn't it!); the story is of a girl who, step by step, is stripped of every truth she knows, and given instead absolute madness and despair; and yet lives, heroically. It takes place in Antarctica—not just a place, but a huge metaphor. Geraldine, if you are ever in my city, how I would love to buy you dinner!
Wednesday, January 16, 2008
To Err Is Human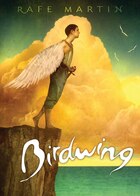 ...to read, divine.
Okay, so I was mistaken--I HAVE been finding time to read. Actually, I forgot to mention a wonderful read from two weeks ago--
Birdwing
by Rafe Martin (Scholastic Inc., 2005). It's an imagining around the Grimm story "The Six Swans" (or the Swan Brothers, I can't remember what it's called exactly.) Son loved it too. It is so well written and so well thought-out, so satisfying in every way. Martin treats every character, even minor ones (such as the children of the sister) with respect. Every one seems to have a fully imagined backstory that informs their every conversation. And the language is beautiful without being self-conscious. Its about transformation and self-determination and heroism and compromise; it turns a fairy tale into a novel without sacrificing the ineffable. That's pretty difficult.
I read, very quickly, the prequel and sequel to
Wise Child
,
Juniper
and
Colman
, respectively. Of course they were not as gorgeous as
Wise Child
, but they were highly satisfactory nonetheless. These are books to add to my Soul List, which I am about to formally assemble—books that teach the soul. The foreword by Karen Cushman in
Colman
inspires me to learn more about Monica Furlong. She published an autobiography.
Because of a conversation with a high-school librarian friend, I picked up
The End of the World As We Know It
by Lesley Choyce. This is an author I'm not crazy about, but keep bumping into, and admire; he is very hardworking and determined and this is definitely the best I've read of his work so far... even though it isn't up my alley. There will be plenty of teen readers who identify with the protagonists anger and bitter view of the world; and Choyce will win them over to hope in the end, because he does not make it easy. It's very real.
Okay, back to work. I swear!
Monday, January 07, 2008
A Last Hurrah... For a While
I am about to enter a period of intense and nonstop work, so this will be the last blog for a while. And it's not even going to be a long one!
I'll start with the book I just this moment finished:
The Penelopiade
by Margaret Atwood (Canongate, 2005). One of the few Atwoods I have truly enjoyed. Her crabbed view of humanity, particularly of the uses of power in relationships—and even more particularly, in relationships between the sexes—is the
perfect
one to take in this recasting of the story of Odysseus. I don't mind her gloomy daubs all over the past—it's so less upsetting (and, okay, threatening) than her pictures of the present or the future. The bitter humour in this is really, really enjoyable, too—her Chorus is a thing of brilliance, and I recommend to any mother of a teenage son her Telemachus. But the best part is how completely in control of this story Atwood is. She's in control of the original material, and of her narrating character, and of every single word, and handled it all so seemingly lightly.... There is no better feeling for a reader than to be in such hands. I felt like Atwood had figured out the
real
story at last.
And if I were teaching an upper-level high-school English course, I'd want this book, along with Julius Lester's retelling of the Cupid and Psyche myth, on my syllabus.
Oh, I suddenly figured out what was so amusing about
The Penelopiad
: it's like a mash-up of Margaret Atwood and Fay Weldon....
A Mango-Shaped Space
by Wendy Mass (Little, Brown and Co., 2003): I found this title when I was doing some research on body-related fiction. It would be interesting for anyone who had never heard of synaethesia, and it's competently written with believable characters, but it didn't last much past the turning of the last page.
Late Nights on Air
by Elizabeth Hay (McClelland and Steward, 2007). I got this from the fast-track "7 days only" shelf and found it difficult to race through it. It wasn't enough to just get the story; I wanted to linger in the places the author was taking me to. (This is such a rare experience for me, I hardly know what to do with it!) I also wanted to figure out this little trick she had of setting up "She didn't know that later, such-and-such would occur" moments which then didn't arrive; or, not in the form one expects, anyway. I am going to have to read this book again.
Well, that's it for now and for the next three months, probably. Toodles!